De vloertrends van 2021. Hieronder worden er een aantal trends genoemd van dit jaar. Je vloer geeft sfeer aan jouw huis en is een belangrijk aspect van je interieur.
Laminaat
Laminaat is een trend voor 2021. Laminaat bestaat al jaren lang en het wordt met het jaar weer populairder. Dat is ook niet gek want er zitten heel erg veel voordelen aan een laminaat vloer. Een aantal voordelen worden hieronder genoemd:
- Het is van topkwaliteit
- Het is net echt!
- Men kan het makkelijk zelf leggen
- Verkrijgbaar in allerlei kleuren, soorten en stijlen
- Heel makkelijk te onderhouden
- Kan goed tegen vuil en vocht
- Vocht- en krasbestendig
Vaak wordt er gekozen voor laminaat in plaats van hout.
Natuurlijke elementen
Natuurlijke elementen worden steeds populairder. Niet alleen in accessoires voor in het huis maar ook voor de vloeren. Het gaat om de "pure" materialen zoals hout en steen. Voor een vloer is dit natuurlijk voornamelijk hout. Deze houten vloeren kun je mooi stijlen met allerlei soort accessoires, als je het in dezelfde stijl houdt kun je eindeloos combineren.
Lichte houtsoorten
Met de natuurlijke elementen komt ook de lichte houtsoorten. Het is een invloed dat vanuit Scandinavië is overgewaaid naar Nederland. Het gaat om minimalistische schoonheid van het licht hout. Het valt ook goed in de trend voor natuurlijke elementen, het is namelijk hout. Puur, je kunt er elke kant mee op. Je kunt het bijvoorbeeld combineren met warme stoffen en zoals bijvoorbeeld fluweel. Maar je kunt ook gebruik maken van contrasterende accessoires of de vloer juist combineren met een stoer donker staal.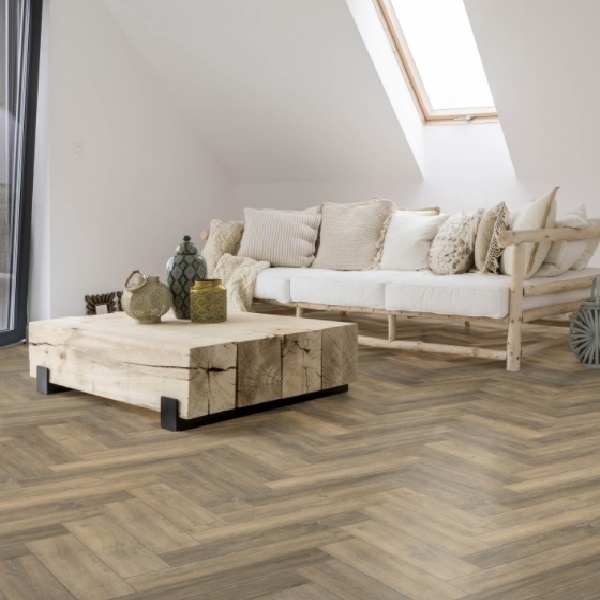 Visgraat vloeren
Visgraat vloeren zijn ook weer helemaal terug van weg geweest. Niet te verwarren met de Hongaarse punt. Een patroonvloer zijn weer helemaal in en dan vooral de visgraatvloeren. Deze kan met verschillende materialen gelegd worden, Hout, PVC of laminaat. De visgraat geeft een chique en authentieke uitstraling aan je interieur. Een visgraat vloer wordt gelegd met een hoek van 45 graden waardoor elke ruimte een stijlvol effect krijgt.
PVC
Ook PVC wordt net als laminaat steeds populairder. Vooral omdat het net een houten vloer is, maar dan zonder het onderhoud wat je moet uitvoeren. Daarnaast is een van de grootste voordelen van een PVC vloer dat het waterbestendig is. Daardoor kun je PVC ook leggen in een badkamer of keuken. Het vangt namelijk ook makkelijk vuil op en is eenvoudig schoon te maken. Een aantal andere voordelen van PVC zijn:
- Het is enorm sterk, duurzaam en recyclebaar
- Het heeft een lange levensduur
- Het is makkelijk in onderhoud
- Het is waterbestendig
- En geluiddempend
- Warm en comfortabel en kan gecombineerd worden met vloerverwarming
- Er zijn verschillende legmethodes
- Een groot assortiment in kleuren, stijlen en afwerkingen.
Het is dus een ideale vloer om in huis te hebben!